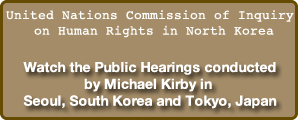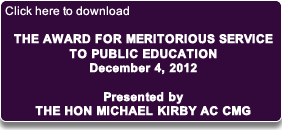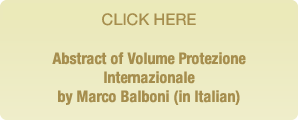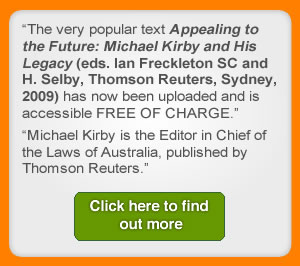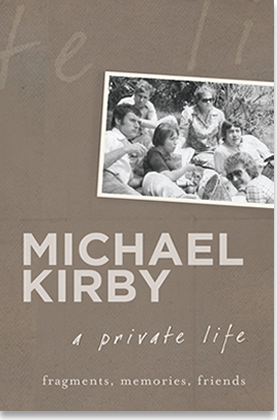 'A Private Life' is available from all good bookshops from
28 September 2011 or from www.allenandunwin.com
NEW
For Chinese readers, I have attached a translation of a chapter of my book ''A Private Life'' concerning my partner Johan. This will give them an insight into me and my life. And the importance of love to every human being.
中文读者们: 我将我的《私人生活》一书中关于我的伴侣Johan一章的中文译本附上。 想来会帮助你们更多地了解我和我的生活, 以及爱对每个人都是多么重要。
Video
A leadership story: Michael Kirby
How much is cheap meat really costing us?
by The Hon Michael Kirby AC CMG Former High Court Judge, Patron of Voiceless

GANDHI ORATION: Former High Court judge Michael Kirby gives this year's Gandhi Oration at the University of New South Wales
30 January 2013
Art Gallery of NSW: The Hon Michael Kirby: Francis Bacon Celebrity Event
23 January 2013
36m 18s
Watch more videos >
"Towards Growing Links between the Supreme Court of India and the High Court of Australia "
05 October 2012
1hr 14m 16s
Watch more videos >
"Ngoc Tram Nguyen Scholarship Dinner "
21 September 2012
2m 31s
Watch more videos >
The Hon Michael Kirby AC CMG
Welcome to my home page. This allows me to speak directly to you. Until now, I have mainly had to speak through the forbidding pages of court reports and formal legal texts. Of course this has not stopped me in the past from speaking directly. Basically, I always try to write in the same way as I speak.

My career has included work as a judge in two great Australian appellate courts - the High Court of Australia and the Court of Appeal of New South Wales. This website helps you to find:
My judicial opinions in the courts on which I have served;

My speeches, articles, book reviews and other 'pearls of wisdom';
For the first time, this website has my speeches back to 1975, the year I helped set up the Australian Law Reform Commission (ALRC). Virtually all of the speeches are here. In fact, I lay claim to inventing the 'blog'. Follow my speeches and you can track my activities, experiences, thinking and feelings over 34 years of public life in Australia and abroad;
My multimedia gallery provides photos and films of my work and home life;
The website will offer filmed and recorded excerpts from speeches old and new as well as podcasts that can be downloaded.
Everyone who visits this space has a right to agree or disagree with what they find. Causing occasional offence is not the greatest sin.  Being boring, self-righteous or unkind compete for that award. I welcome feedback and suggestions as I embrace new adventures in my life.  These may take me into arbitration and mediation; academic teaching and research; new international activities; and work completely outside the "Great Game" of the law.
Michael Kirby opened Yoko Ono's exhibition at the Museum of Contemporary Art
THE ROCKS, SYDNEY, AUSTRALIA
15 NOVEMBER 2013
OPENING OF THE EXHIBITION
'WAR IS OVER! IF YOU WANT IT'
BY YOKO ONO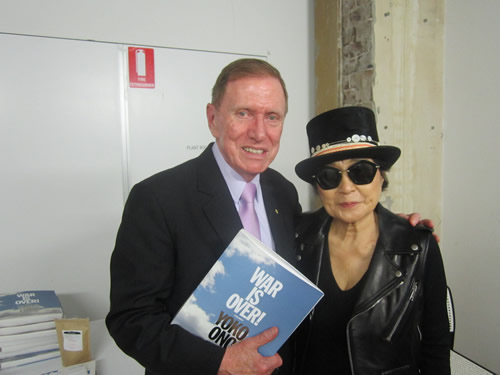 Hon Michael Kirby's UN Appointment
Foreign Minister Bob Carr today welcomed the appointment of the Hon Michael Kirby AC CMG as chair of the UN Human Rights Council (HRC) Commission of Inquiry to investigate human rights violations in the Democratic People's Republic of Korea (DPRK), announced in Geneva.
Senator Carr congratulated Mr Kirby and expressed hope the inquiry will provide definitive information on the nature of human rights abuses in North Korea.
"The Honourable Michael Kirby's strong legal credentials and previous experience in the UN system make him an ideal candidate for the position," Senator Carr said.
"Australia is deeply concerned by the human rights situation in the DPRK and I'm pleased that Australia co-sponsored and supported the UN resolution which established the Commission of Inquiry.
"It is time the North Korean government acted to address human rights and there should be no doubt about Australia's ongoing support of mechanisms to ensure action is taken."
The Commission of Inquiry (COI) was established by a resolution of the UN HRC on 14 March 2013.
The COI's mandate is to investigate human rights violations in the DPRK, including the right to food, violations associated with prison camps, torture and inhuman treatment, arbitrary detention, violations of the right to life, freedom of movement and enforced disappearances, discrimination and violations of freedom of expression.
The COI will operate for a period of one year and is expected to be operational by June.
In addition to the Hon Michael Kirby as Chair, the other members of the COI are Marzuki Darusman, the UN Special Rapporteur on the situation of human rights in the DPRK and former Indonesian Attorney-General, and Serbian human rights campaigner Sonja Biserko.
Michael Kirby Named Patron of Kirby Institute at UNSW
The Hon. Michael Kirby has been named Patron of the Kirby Institute. The Institute is the new name of the cutting edge centre for scientific and social research into HIV, viral hepatitis and sexually transmissible infections. It is based in the University of New South Wales. Since 1988, Michael Kirby has had a close association with the global and national HIV response, including through the World Health Organisation, United Nations Development Programme, UNAIDS and the Commonwealth of Nations. The Kirby Institute was named in December 2012 as a major recipient of research funding awarded by the National Health and Medical Research Council. Professor David Cooper, Director of the Kirby Institute, received a grant of $12.6 million for a major research program involving 7 groups in Sydney and Melbourne investigating how HIV lies dormant in some parts of the body, evading eradication by HIV therapy. The research will examine how the immune system responds to the virus. For further stories CLICK here.
Attorney-General, The Hon Robert McClelland MP; President of the Australian Bar Association, Mr Thomas Bathurst, QC; President of the Law Council of Australia, Mr John Corcoran; President of my home Bar, the Bar Association of New South Wales, Ms Anna Katzmann SC;The Hon T E F Hughes, AO, QC; Judicial, Academic and other Colleagues; Family and Friends:
In this room, where independent judges uphold the law and the Constitution, I start by honouring the people of Australia, in all of their diversity, most of them happily unaware of what we do here today. Fortunate is a land that lives in confidence under the rule of law, with elected parliaments, uncorrupted officials and independent judges.
Read more...
New Developments in Animal Welfare Law
Lecture at Otago University, Dunedin, New Zealand
Tuesday, 26 March 2013
1hr 14m
The Hon Michael Kirby - At the Art Gallery of New South Wales
Wednesday, 23 January 2013 at 6:30 PM for the exhibition of the works of Francis Bacon
UNAA Young Professionals - The Hon Michael Kirby AC CMG
The Honourable Michael Kirby AC CMG - Guest Lecture at UniSA
Australian Jurist Michael Kirby Named Co-Winner of Gruber Justice Prize
NEW YORK, WEDNESDAY
Michael Kirby, retired judge of the High Court of Australia, was today named as the co-winner of the Gruber Justice Prize for 2010. The announcement was made in New York by the Gruber Foundation, a philanthropic organisation that awards the Gruber Prizes annually.
Michael Kirby is the first Australian to win the Gruber Justice Prize, although other Australians have previously been named as winners of Gruber Prizes in the field of science. These have included Professor Elizabeth Blackburn who won the Gruber Prize for Genetics in 2006 and who was named in 2009 as co-winner of the Nobel Prize for Psychology/Medicine for her discovery of telemerase. Professor Blackburn is one of a number of Gruber Prize winners who have later gone on to be awarded the Nobel Prize. There is no Nobel Prize for Law or Justice.
Read more...