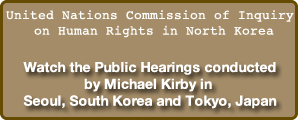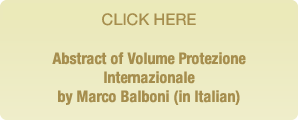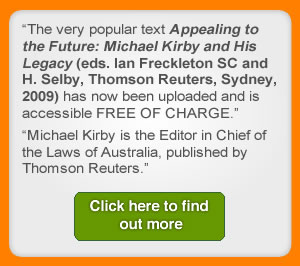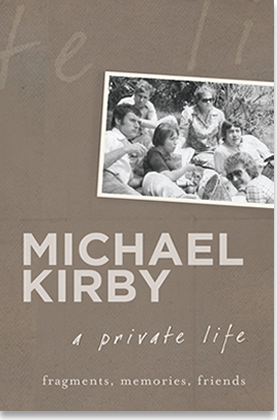 'A Private Life' is available from all good bookshops from
28 September 2011 or from www.allenandunwin.com
NEW
For Chinese readers, I have attached a translation of a chapter of my book ''A Private Life'' concerning my partner Johan. This will give them an insight into me and my life. And the importance of love to every human being.
中文读者们: 我将我的《私人生活》一书中关于我的伴侣Johan一章的中文译本附上。 想来会帮助你们更多地了解我和我的生活, 以及爱对每个人都是多么重要。
Video
A leadership story: Michael Kirby
How much is cheap meat really costing us?
by The Hon Michael Kirby AC CMG Former High Court Judge, Patron of Voiceless

GANDHI ORATION: Former High Court judge Michael Kirby gives this year's Gandhi Oration at the University of New South Wales
30 January 2013
Art Gallery of NSW: The Hon Michael Kirby: Francis Bacon Celebrity Event
23 January 2013
36m 18s
Watch more videos >
"Towards Growing Links between the Supreme Court of India and the High Court of Australia "
05 October 2012
1hr 14m 16s
Watch more videos >
"Ngoc Tram Nguyen Scholarship Dinner "
21 September 2012
2m 31s
Watch more videos >
Washington DC, 19/02/2016
WASHINGTON, Feb. 19 (Yonhap) -- The former head of a U.N. investigative panel on North Korea's human rights issue called Friday for greater efforts to send outside information into the communist nation to ensure North Korean people know how bad their leaders are.

Read more...

United Nations (UN) Announcement on new UN High Level Panel

"Michael Kirby Appointed to New UN Post

Important inquiry on intellectual property law and human rights

New York, 19 November 2015

The United Nations announced today in New York that the Secretary-General (Ban Ki-moon) has established a new High Level Panel on Health Technologies. The Hon. Michael Kirby (Australia) has been appointed a member of the Panel. The new High Level Panel will be chaired by former President of the Swiss Confederation Ruth Dreifuss and former President of Botswana, President Festus Mogae. A link to the announcement may be found here.


As Secretary-General Ban indicated in constituting the Panel:

"Despite the progress made in tackling several major health challenges since the adoption of the Millennium Declaration in the year 2000, millions have been left behind. Disease and poor health remain barriers to social and economic development and the promise of more inclusive and equitable development has not yet been fully realised.

For this reason, the High Level Panel, which comprises leaders from public and commercial worlds, has been tasked with "making recommendations for how the future of health technologies innovation can be balance with access for all, so that no one is left behind in the pursuit of a healthy and productive life?"

Sustainable Development Goals

The Secretary-General has set the creation of the Panel in the context of the "interdependence of health and development". He envisages that the Panel will give reality to the "bold and ambitious agenda with the recently adopted Sustainable Development Goals (SDGs). These SDGs include SDG3 which aims to "attain healthy life and wellbeing for all". However, at the moment, as the Secretary-General has recognised, the availability of health technologies is essential for the achievement of SDG3 [but] many of these technologies remain unavailable or inaccessible, such as those needed to treat hepatitis C and HIV, as well as some non-communicable and rare diseases."

Past Experience

Michael Kirby has past experience that will serve him well in his new role as a member of the Panel. In 1989-92, he was a Commissioner of the inaugural World Health Organisation Global Commission on AIDS. In the 1990s he served on the UNESCO International Bioethics Committee and on the Ethics Committee of the Human Genome Organisation (1995-2003). Since 2003 he has been a member of the UNAIDS Expert Panel on AIDS and Human Rights. In 2015 he was appointed to the Equitable Access Initiative of the Global Fund of AIDS, Tuberculosis and Malaria. In the mid-1990s he was Special Representative of the Secretary-General for Human Rights in Cambodia. In 2013-14, he chaired the UN Commission of Inquiry on the Democratic People's Republic of Korea (North Korea). Between 1996 and 2009 he served as a Justice of the High Court of Australia, Australia's highest court.

Michael Kirby will serve on the High Level Panel in a part-time capacity. It is expected that the Panel will have meetings in New York, Johannesburg and possibly other sites and that there will be an expert technical committee to assist the panel on which he will also chair."
The Hon Michael Kirby AC CMG
Welcome to my home page. This allows me to speak directly to you. Until now, I have mainly had to speak through the forbidding pages of court reports and formal legal texts. Of course this has not stopped me in the past from speaking directly. Basically, I always try to write in the same way as I speak.

My career has included work as a judge in two great Australian appellate courts - the High Court of Australia and the Court of Appeal of New South Wales. This website helps you to find:
My judicial opinions in the courts on which I have served;

My speeches, articles, book reviews and other 'pearls of wisdom';
For the first time, this website has my speeches back to 1975, the year I helped set up the Australian Law Reform Commission (ALRC). Virtually all of the speeches are here. In fact, I lay claim to inventing the 'blog'. Follow my speeches and you can track my activities, experiences, thinking and feelings over 34 years of public life in Australia and abroad;
My multimedia gallery provides photos and films of my work and home life;
The website will offer filmed and recorded excerpts from speeches old and new as well as podcasts that can be downloaded.
Everyone who visits this space has a right to agree or disagree with what they find. Causing occasional offence is not the greatest sin. Being boring, self-righteous or unkind compete for that award. I welcome feedback and suggestions as I embrace new adventures in my life. These may take me into arbitration and mediation; academic teaching and research; new international activities; and work completely outside the "Great Game" of the law.
Attorney-General, The Hon Robert McClelland MP; President of the Australian Bar Association, Mr Thomas Bathurst, QC; President of the Law Council of Australia, Mr John Corcoran; President of my home Bar, the Bar Association of New South Wales, Ms Anna Katzmann SC;The Hon T E F Hughes, AO, QC; Judicial, Academic and other Colleagues; Family and Friends:
In this room, where independent judges uphold the law and the Constitution, I start by honouring the people of Australia, in all of their diversity, most of them happily unaware of what we do here today. Fortunate is a land that lives in confidence under the rule of law, with elected parliaments, uncorrupted officials and independent judges.
Read more...
Talk given by Michael Kirby at the National Press Club in Canberra on 22 October 2015 at a function organised by the Australian National Audit Office.
The series on leadership was initiated by the immediately past Auditor General of Australia, Mr Ian McPhee.
Launch of Asian Australian Lawyers Association
Held at Baker and McKenzie, Sydney on Monday, 2 November 2015
Asian Australian Lawyers Association NSW Launch Part IIA
Asian Australian Lawyers Association NSW Launch Part IIB
Conversation between Michael Kirby and Judy Cassab
U.S. Policy Toward North Korea_Keynote by Hon. Michael D. Kirby
QandA Panel at Notre Dame Australia University, Broadway in Sydney on Wednesday 19 August 2015
The participants included The Most Revd Archbishop Anthony Fisher OP, Roman Catholic Archbishop of Sydney, and Hon Michael Kirby AC CMG. They discussed and answered audience questions on issues such as same sex marriage, enlarging interest in freedom of religion; and secularism in Australia.
Commonwealth Law Conference - Glasgow 16 April 2015
It includes Michael Kirby's closing plenary address at the Commonwealth Law Conference in Glasgow, Scotland on Thursday, 16 April 2015 on the topic: ''The Commonwealth of Nations – Bound to Disappoint? ''. It also includes part of a Q & A session that followed the plenary address when the speaker was tackled by a delegate from Nigeria and responded with a rendition of the old Nigerian national anthem ('' Nigeria We Hail thee!''). The address concerns the failures of the Commonwealth Secretariat to respond effectively to human rights challenges and the failure to implement the recommendations of the Eminent Persons Group, of which the speaker was a member 2010-11.
Website Links
Watch the video on North Korea Inside/Out with The Hon Michael Kirby AC CMG and Barnaby Caddy
Michael Kirby was chair of the OECD Expert Group that developed the Privacy Guidelines in 1980. They influenced protective law and policy in many countries, and still do. Developments in information technology since 1980 increase the danger for individual privacy. In 2015 Privacy International collects top experts, including Michael Kirby, to predict the way ahead. Click here
Click here to hear the Public Lecture from Michael Kirby
The Report of the Commission of Inquiry on North Korea: Paradoxes and Dilemmas
University of Western Australia on Friday, 27 March 2015 for the USAsia Centre of the University.
The Hon. Michael Kirby applauds success of Herbert Smith Freehills' LGBTI Network
Keynote speech - Monday, 9 March 2015
The Hon Michael Kirby AC CMG - 2014 Centenary Summit
Melbourne - Saturday, 22 November 2014
Epic Exchange Between Justice Kirby and DPRK Councillor Kim Song
"Michael Kirby and Kim Song, North Korean Ambassador to United Nations, disagree in New York.
On 22 October 2014 at the United Nations Headquarters in New York, a side event to the meeting of the General Assembly was organised by the UN Missions of Australia, Botswana and Panama. This event, chaired by Ambassador Gary Quinlan (Australia) included participation of DPRK refugees. Exceptionally, Kim Song, the DPRK Deputy Head of Mission attended and challenged the report of the Commission of Inquiry on DPRK which Michael Kirby had chaired. Mr Kirby urged DPRK to release the COI report in North Korea and to invite COI members to Pyongyang to explain it and answer questions. "
Watch the video here
Michael Kirby's presentation on International Child Abductions in Australian Courts on 14 October 2014.
Report of the Commission of Inquiry on Human Rights in the Democratic People's Republic of Korea
Webcast Recording -1 May 2014

Click on the below image to watch the seminar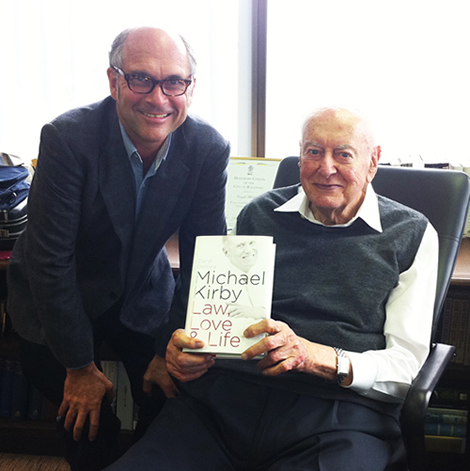 Photo of the Honourable E.G. Whitlam AC QC with prize winning film maker and author Daryl Dellora, who was author of Michael Kirby: Law, Love & Life, published by Penguin Books (2012).
The photo was taken on 14 November 2012. Reproduced with permission.
Annual conference of the Chartered Accountants, Australia and New Zealand
held in Canberra, ACT on 26 November 2015